Yedek Parça > Pervaneler > Folding Propellers > 3 Blade Folding Propeller (Nickel-Aluminium-Bronze)
3 Blade Folding Propeller (Nickel-Aluminium-Bronze)
3 Blade Folding Propeller (Nickel-Aluminium-Bronze)
The 3-blade folding propeller provides an alternative for those who have chosen fixed propellers for better reverse thrust and those who have chosen the conventional 2-blade folding propeller but need better manoeuvrability and performance. The power range for the 3-blade propeller is 25-60 Hp and it is available in 6 sizes with several different pitches, and a blade area of 36%.
For a complete propeller, order both blade kit and hub kit.
Note! Boat lenght, weight, engine andgear ratio affect propeller selection. The table is only guidance for propeller choice. Propeller size has to be calculated to match engine and gear ratio. Use calculation program or propeller diagrams.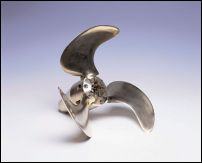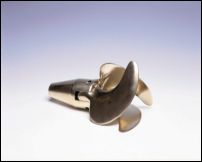 Blade Kit RH, 3 Blade Folding Propeller
Blade Kit LH, 3 Blade Folding Propeller
Hub Kit, 3 Blade Folding Propeller