Yedek Parça > Pervaneler > Duoprop Propellers
Duoprop Propellers
Duoprop Propellers
Nothing bites into the water as efficiently as Duoprop. It was introduced by Volvo Penta in 1982 – the biggest event in boating since the since the Volvo Penta aquamatic drive was introduced.
The principle behind Duoprop is simple: The counterrotating twin propellers eliminate the lateral forces existing in conventional single-propeller sterndrives. Consequently the engine's energy and power is concentrated on driving the boat forward – not sideways. This results in several benefits for your boating pleasure.
- Faster acceleration, lower fuel consumption
- Faster
- Manouverability is better too
- Lower vibration and noise
---- IPS
And now Volvo Penta introduces another revolutionary propulsion system. Volvo Penta IPS is a fully integrated propulsion system from controls to propellers. In direct comparison to traditional technology, acceleration is increased 15%, top speed is increased 20%, and fuel efficiency is increased by an astounding 30%. Superior performance also includes safety. From subtle design to long hours of testing, Volvo Penta engineering ensures you the most secure and most pleasurable boating experience possible.
Note! Propellers with different size codes must never be mounted on the same drive!
Not! Farklı ölçü kodlu pervaneler aynı kuyruk üzerine takılmamalıdır!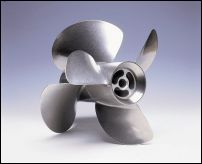 Duoprop - type A (Aluminium for DP280, 290, DP-A-D. Diesel Engines except KAD42-44, KAD300)
Duoprop - type B (Aluminium for DP280, 290, DP-A-D, Gasoline Engines)
Duoprop - type C (Stainless Steel for DP280, 290, DP-A-D, DP-G)
Duoprop - type D (Aluminium for DP-S drives)
Duoprop - type E (Stainless Steel for DPX Drives)
Duoprop - type F (Stainless Steel for DP-S drives)
Duoprop - type G (Nickel-Aliminium-Bronze for DPH drives)
Duoprop - type GR (Stainless Steel for DPR drives)
Duoprop - type T (Nickel-Aliminium-Bronze for IPS)