Yedek Parça > Pervaneler > Folding Propellers > 4 Blade Folding Propeller (Nickel-Aluminium-Bronze)
4 Blade Folding Propeller (Nickel-Aluminium-Bronze)
4 Blade Folding Propeller (Nickel-Aluminium-Bronze)
The 4-bladed propeller has been developed for sailingboats with more powerful engines, which now benefit from higher speed on the move thanks to lower drag. The 4-blade propeller offers outstanding manoeuvrability. Reverse thrust is fully comparable with that of a fixed propeller. The power range for the 4-blade propeller is 55-155 Hp and it is available in 3 sizes with several different pitches and a blade area of 48%.
For a complete propeller, order both blade kit and hub kit.
Note! Boat lenght, weight, engine andgear ratio affect propeller selection. The table is only guidance for propeller choice. Propeller size has to be calculated to match engine and gear ratio. Use calculation program or propeller diagrams.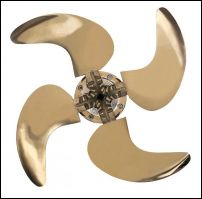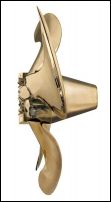 Blade Kit RH, 4 Blade Folding Propeller
Blade Kit LH, 4 Blade Folding Propeller
Hub Kit, 4 Blade Folding Propeller